If there's one garment we have mastered the art of wearing, it will be our jeans. The relationship we have with our jeans is almost as intimate as the relationship we have with our underwear and selecting the right pair can be as specific and individual as selecting the right bra size. Not only do we know what size jeans we are in each and every different store, but we will know what shade of indigo suits us, which colour is the most slimming, what wash is most flattering on our thighs and what rise we find the most comfortable or fitting to our shape. We will know what brand, what elasticity to cotton ratio works best and so on and so forth. And once we have found our perfect pair we come to rely on them, for both adornment and protection.
This spring summer 2015 brings us a catwalk awash in a sea of blue denim. The jeans we know and love and have mastered the art of rocking week in week out will unfortunately no longer have us looking 'super on trend' and it doesn't matter how many rips are in them or how frayed they are at the ankles. You see, statement denim is exactly as it says – it's the denim that's going to turn heads and it isn't necessarily specific to the denim you'll wear on your legs.
The new denim trend has forced us to re-think how we wear denim and has dared us to find new and interesting ways to wear this hard-wearing and enduring fabric more creatively than our bob-standard jeans, shorts, shirts and jackets. Admittedly, we all have different relationships with denim and it will of course be our relationship with the sturdy fabric that will determine how we incorporate the statement denim trend into our spring summer wardrobe. For some the smarter and more tailored approach of Gucci will be more appealing than the embellished and bejewelled denim at Dolce and Gabbana or Stella McCartney. But from Gaucho pants, to jumpsuits, wide leg jeans to dungarees, dresses to jackets, there's a new denim out there for any and every one that wants to be super on trend for the season. The key to nodding our heads towards the trend is simply to be as original as possible.
Here's how to shop and style the trend…
1. No Ordinary Dress
Most will opt for a denim shift dress, when entering this new trend. Yes, it's denim and yes, shift dresses are great for hiding any lumps and bumps, but the sturdiness of the denim means that the fabric will have less movement and might not fall and hang the way you want it to. A denim too sturdy will have you looking boxy, as opposed to slim. A denim shift is just a little too fail-safe anyway, push the boundaries a little more and go for a shirt dress, a maxi dress or a more structured denim for a sharper look.
2. Say Hello to Lyocell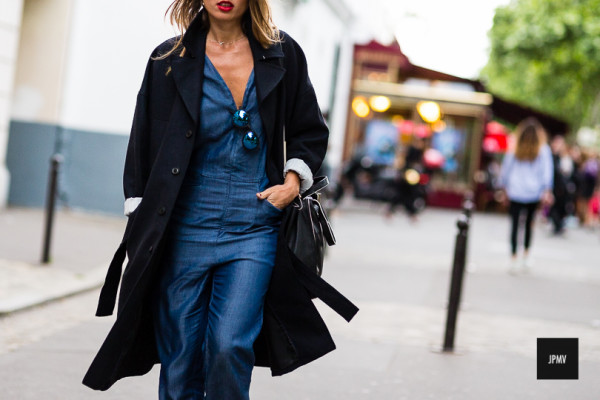 Lyocell is incorporated into denim to create a lighter, softer and more pliable denim than that of the jeans we'd typically wear. Because Lyocell denim is more fluid and slightly sleeker, opt for this type of denim when you are going for a more refined look, but still want to nod towards the season's trend.
3. Know how to Work the Jumpsuit
The denim jumpsuit is the ultimate denim statement maker. However, worn incorrectly and it can end up looking a little too boyish or like coveralls! So, instead of going for a tapered leg jumpsuit, opt for a wide leg and wear with a pair of wedges or for that seventies look, go for platforms. For a sharper look, choose a jumpsuit in a darker wash denim that leans more toward a tailored style of design.
4. Shine in Embellishments
If you like your clothes loud and proud then you won't struggle to incorporate the bold and embellished jeans of the season into your summer wardrobe. From giant polka-dolts, metallic jewels, smiley faces, there's no end to the embellishments that can transform an everyday staple garment into a head turner. Wear with a white tee and some barely there sandals and you are good to go.
5. Denim Skirting
So, it would seem that the A-Line button down denim skirt is the go to skirt of this new trend. To up the denim game, avoid this and go for a denim pencil skirt. The denim fabric makes a pencil skirt slightly edgier and more fashion forward. However, stay clear of acid wash denim, as this can come across a little trashy.
6. The Canadian Tuxedo – Wear it like it's NO Thing!
Double denim isn't a THING anymore, so for a super statement look wear your denim head to toe. Rock your denim pencil skirt with a denim shirt, or your wide leg jeans with a denim shell top. However you piece together your double denim, rock it and you will make a statement – it really is that straight forward. The Canadian Tuxedo - brilliant in its simplicity!
7. Make Skinny Jeans Your LAST Option
OK, so the boyfriend, the girlfriend and the Mom jeans have all given skinny jeans a run for their money, but they still don't seem to be able to replace them. They are worn as an alternative to skinnies, not as a staple. Flared or boot-cut and wide leg jeans can be just as fail-safe as skinnies and in most cases are far more flattering than skinnies. They can take you from day to night, from work to the bar and from casual to dressy. So, to mix up your everyday denim silhouette, add some flares and wide leg jeans into your wardrobe in different washes and styles for an effortless approach to statement denim.
How will you make your denim pop?!